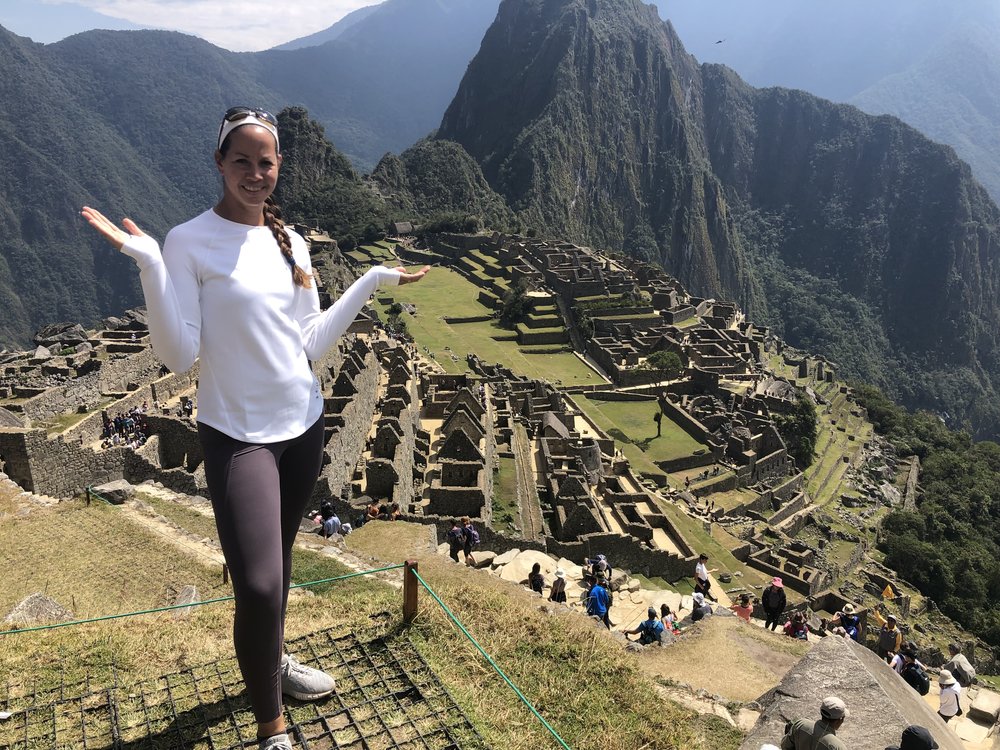 If Machu Picchu interests you at all, you need to make the trip to go!!
Well another month has come and gone, and summer is technically over, as school starts Monday. However, I am hitting the road again. I am in the Austin airport, as I type, for the first leg of our trip to Japan for Japan Cup. As always, there's never enough time at home. Just as I got settled in, it was time to pack up again. I am glad I had time to wipe the DVR of Bachelorette and Bachelor in Paradise, my guilty pleasure TV shows, haha. (I knew what happened on the Bachelorette but wanted to view the last 2 episodes myself).
Our last trip began in Lafayette. I always joke about not liking Lafayette, but it's only because of the intense rivalry between Texas State and UL. I actually really enjoy when we go there. The fans love their Cajuns, but man they love softball. The turnout for our 3 games there was awesome, and their faithful fans cooked for us! I will take Crawfish Etouffee any day of the week when it's homemade!
After Lafayette, we headed to my hometown! I love when we play in Houston. My parents still live there, but I also get to see a number of friends, teachers, coaches, etc. from all the different parts of my life. My freshman basketball coach and high school AP came to watch! I saw my cousin, his wife and their daughter in the stands. One of my best friends from high school brought his family, complete with two littles ones who were cheering me on! When the going gets tough, the reminder of who is in my corner always gives me the push I need to get through it and relish this journey. I never take for granted the people who are in my life.
After each game we have our autograph session. In Houston, it was fun to hear girls tell me their mom played with or against me. I also got to meet the cutest little girl, who just happened to be named after me! That's a first! I almost didn't believe them at first, and then I met this precious child, and she told me the same thing!! It's crazy to realize just what the sphere of influence can do.
While in Houston, photographer Jade Hewitt took some amazing photos of my step-daughter watching me pitch. I have sited a few times, that she is part of my why, and it's the truth. I want her (and other young girls) to see what hard work looks like. I want them to see hard work pay off, and I want them to see, there are no limits (age, gender, etc.) that can hold you back. If you want to accomplish a dream, set your sights and GO!
The team flew from Houston to Lima, Peru for the Pan American Games. These games are a similar set up to the Olympics, where we stay in a village with other athletes from all the Pan American countries. It's always fun to people watch and guess what sport others are competing in. Some of us pin traded more intently than others! I did not get too involved in the trading, but I did get a Jamaica pin, which was the highlight of pin trading for me.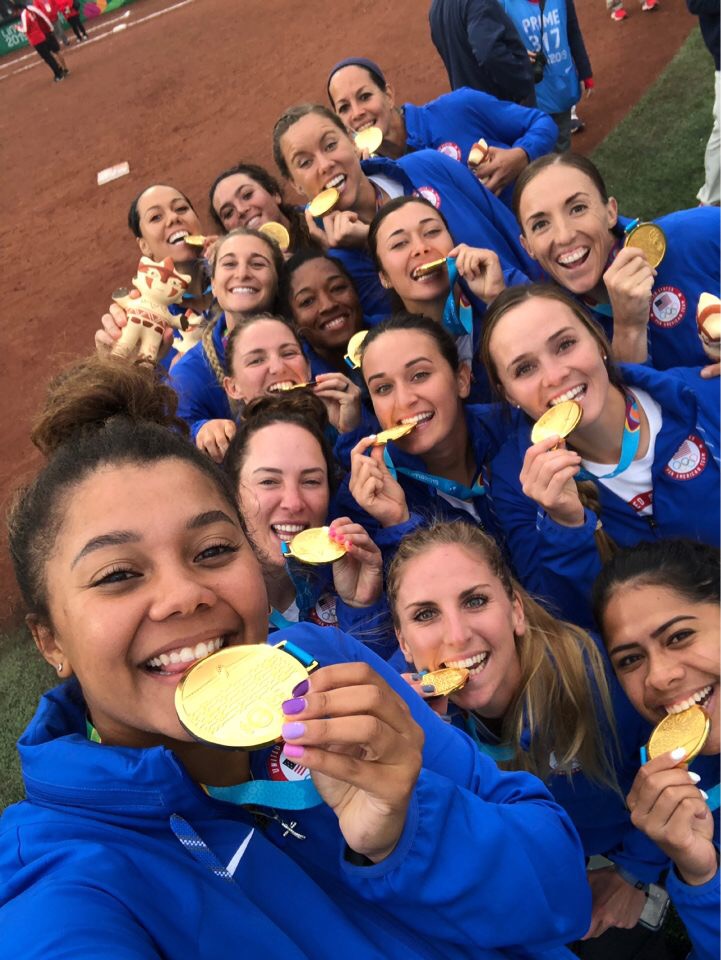 I love being part of this group, as they show love, loyalty and grittiness daily.
We played 5 pool games, winning all of them. Personally, I pitched against Puerto Rico, and felt pretty good. It's still taking time to get the endurance I need to meet my standards for 7 innings, but every outing is a chance to improve, reflect, and learn. I was given the ball for our semi-final game vs Canada, and I can't report the same feeling as I had for the PR game. The interesting part of this journey is having to re-learn things, especially mentally and emotionally. Four years out of the circle means 4 years my mental toughness wasn't tested or my emotions weren't fluctuating up and down due to my performance. All this is natural responses, that over time you learn to harness, control and work with. I guess I assumed it would come back naturally, but that assumption was off. It's a process… as much as I don't want to admit it is… it is. I am learning to trust that process, and know, I am getting better, even if it's only a little step at a time.
The biggest thing I have learned to embrace is this team I am part of. I love being part of this group, as they show love, loyalty and grittiness daily. After losing to Canada, we bounced back with two wins to earn the Gold! This team, no matter what, goes to battle with and for each other. When I felt like I had put us in a hole, they had my back, and performed amazingly on the final day. I've mentioned a few times, how fun this journey is, and even in the midst of adversity, it was fun!
For the first time, I had time to stay and be a tourist. My parents and husband flew to Lima to watch the games, and then we flew to Cusco and journey to Machu Picchu. I will say, if Machu Picchu interests you at all, you need to make the trip to go!! I get absolutely no kick back from this next statement, but we used PeruForLess and our whole touring trip was planned and executed with ease!! We saw Cusco Sacred Valley, an animal rescue, and of course Machu Picchu itself. Our guides were so knowledgeable and taught us so much. Our first guide, Rodney, was awesome, and knew tricks to take pano pics that showed you in 3 different spots of the view you were capturing! Fredy took us to see bears, goats, wildcats and Condors that have been rescued from either the wild or as illegal pets. We saw how they rehab Condors to fly, so they will be ready once they can release them back into the wild. Peter, he didn't skip a detail when he walked Machu Picchu with us. Seeing the different stone work, the different tiers, and the history he had studied made the place come to life.
The Incas were an incredible group of workers. The way they cut stone and built their sacred buildings and cities are just incredible knowing the bare minimum they had during that age. Imaging transporting some of these massive stones is just impossible, but they did it. Like I said, plan a vacation and go see it!!
In the week home, Texas State moved our freshmen into their dorms, and hosted our annual Welcome Back dinner for all our families. It warmed my heart to see my kids again, and get to be part of both events. Even if it was just a short trip, it was nice to be in my own bed, in my own office, and getting back to what normal has been for me.
I look forward to this last trip of summer 2019! Maybe, just maybe, Val won't accuse me during Mafia… and when we fly home, I bet we have more moments and memories to add to this summer.
Ta-ta for now!
#38