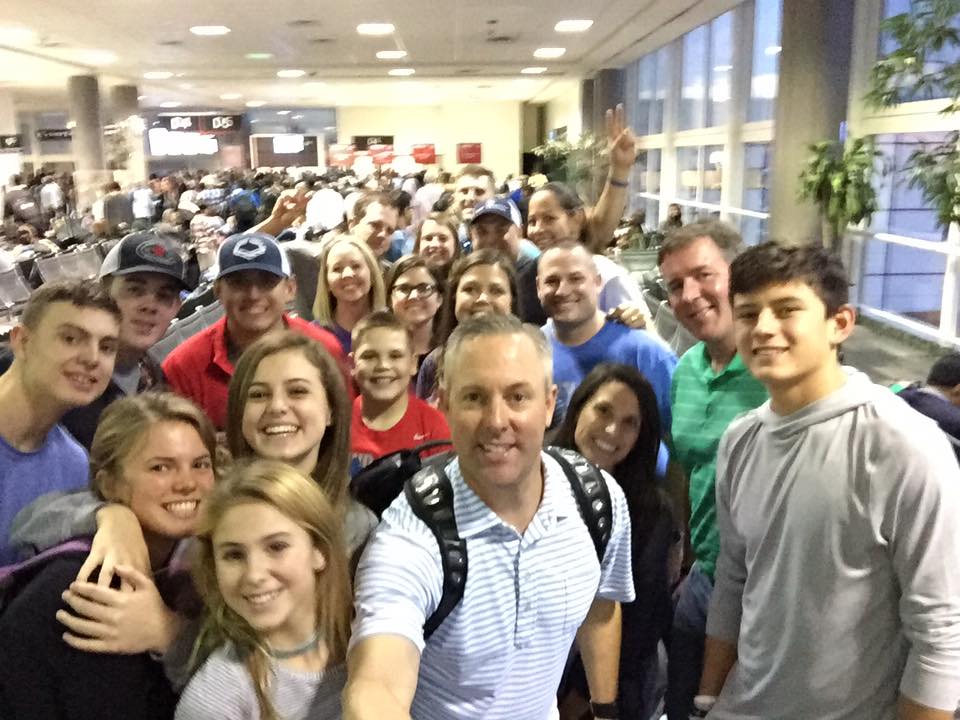 Team Jana is ready to take off from Houston.
Well we have been back from Africa for over a week. While I was there, I wanted to blog about each day's happening, but the wifi wasn't the best, so I didn't get online via my computer. I simply posted some photos and updates from my phone when I could.
On the way home, I was so anxious to type up a blog, and a number of times I have started to script it out in my head, but I always stall. Why? Because I don't know if words can really describe everything that went on during this trip. One blog won't simply cover it either, so this will be multi-pieces. I'll also do my best to try and convey as much as I can, but there are some things that I think only the 24 of us will be able to understand.
December 26th, 24 of us met at the airport to begin our trek. Our 24 included Jana's husband and sons, their closet friends, Round Rock Express employees and myself. We checked in our bags, bags with baseball/softball equipment, as well as bags with clothes and items for the kids in Lusaka. However, for the first time ever, carry on bags were weighed. Apparently my rolling carry on weighed a lot empty, so after I took out quite a bit of stuff (and put it in my backpack which means that weight was still coming with me), I was finally allowed to go on. Note, this will not be the last of carry-on luggage problems.
Out of the 24 in our travel party, only 2 of us were flying solo: myself and the Round Rock Express VP of communications Jill Cacic. Thankfully I semi-knew Jill as I have been involved in things with Round Rock Express before, but after this trip, she got a new friend, whether she wanted it or not! ;) Jill and I buddied up to make sure we weren't left behind, and good thing we did… we are HDR! (More on that later)
We left Houston around 6:40 and had 14+ hours to Dubai. A few movies, some sleep and a little reading made time go by at a decent pace. Emirates airline takes the cake with Wifi! For $1 (yes you read that right) you get 500MB of data. For the entire flight I could check social media, text with my husband, friends and family, and as we landed Joey even FaceTimed me. AND it worked!!! When my phone was ringing I looked at Chase, who was in the seat next to me, and said "will this work on here?" I almost missed the call because I was in shock.
Solo travelers at the Burj Khalifa
We had a 14 hour layover in Dubai! Dubai was 2 hours ahead of Lusaka still, so we'd be going back in time on our next flight, so we tried to stay awake by making a trip to the Dubai Mall as well as the Burj Khalifa. There was slight scare after we ate dinner, my passport was missing. Thankfully, I went back to our table and it was under my chair. Fell right out of my pocket without me knowing.
Our first real adventure was when we found out we missed the last train back to our hotel! After a lot of laughs and jokes, we found the exit to the train station and hailed 3 cabs. We did our best to explain what hotel we were at, and prayed we made it there! Thankfully, everyone arrived safe and sound.
The next morning, my lovely roller carry on and I had another fun encounter! Jill shared this encounter too, so we both were battling. Apparently our 2 carryons could only total 7Kg? Or 7 something! My roller bag was a bit over 7, so I took out a book, but the attendant wouldn't let me through to the gate. I was very flustered… to say the least. I couldn't understand how we were allowed to travel there with these exact same carry ons but now we couldn't take them. We were forced to check the bags… mine was free, Jill had to pay for hers. Why? Who knows? I really felt like they just made things up as we went.
Finally, my backpack, which was never weighed, and I got through, and our group was well on our way to our last flight. However, I didn't hear the end of my frustration over it for a while. There were bets on if I would end up in Airport jail…. I mean, I may have tried to just walk away from the guy at one point!?
Our second flight was 7.5 hours. We were delayed some because of fog, but I don't know how long. I think I was asleep before we took off. Around 3:00 PM on Dec 28th, we landed in Lusaka, Zambia to begin what ended up an INCREDIBLE journey!
To Be Continued…