Where to start…
There have been so many times I've thought of blogging over the last month, but to be honest, I don't think I ever had enough time to put all my thoughts in order. That being said, I am going to do my best to cover as much as I can without writing a full-blown novel.
I know I never really used my own avenues to explain the decision to return to the field. I let Graham Hays, ESPNW, to break the story, as he has always been a huge advocate for softball. The decision for me was not a long thought out process. Long story short, Kelly Kretschman was in San Marcos visiting, she told Coach Woodard she thought I still wanted to play. Days later, Coach told me if I wanted to try and go for 2020, we would make it work. I'm not lying when I say, I had not thought of the idea for a while, but my heart jumped when I heard those words. I got home, discussed it with my husband, and it was decided. This was in October 2017, so a year and 9 months later, I am completely happy we made this decision. It was a team decision, and I am so fortunate that I have a husband, step-daughter and massive amounts of family and friends that support our decision. It's been pretty awesome to have the tribe of people in my corner that I do!
In May, USA Softball had our Gold Gala fundraiser in Oklahoma City.
Leading up to June, the most nerve-wracking unknown for me was how would I fit in or get along with the women on the team. A good number of them have been on Team USA for a few years, so there is a bond. Monica and Shelby Pendley were the only two athletes I have ever been on a team with. Val Arioto game into the USA program the last year I was part of it. So, my familiarity with the team members was limited. In May, USA Softball had our Gold Gala fundraiser in Oklahoma City. This was a great opportunity to not only meet, see and hangout with teammates, but we also got on the field together a bit. I was soaking up all opportunities to chat with my new teammates. The transition in joining this team was so smooth. I can't say enough how welcoming and accepting this group was.
Personally, I can't put into words what it's like to be back on the field. I love it! I am having so much fun. The process to getting comfortable and feeling like I used to, was frustrating at times, longer than I wanted, but it was something I had to go through. It's a reminder to me as a player and coach, to put in the work, trust the work and the process. We are not in control of the length of it! But working towards that, and seeing it play out, that has been FUN.
I can't put into words what it's like to be back on the field.
Chicago was where we began. We practiced, we trained, we were learning while trying to be game ready. Before games started, we got the opportunity to be on the field at the White Sox game in honor of Olympic Day. It was a great opportunity to promote Softball being back in the Olympics and showcase Team USA.
We played 4 exhibition games, after only 3 days of being together. This is a quick turnaround to be on the field. Each outing, we were working, improving, learning. Pitching wise, I felt ok. But in my mind, I knew it was first competitive innings for me since August 2015. While I wanted to be in top shape, I knew that's not how this would happen. However, I was able to feel a little better each outing and take away progress every time.
Then we were off to Japan! I haven't been on that long of a flight in a LONG time, and I forgot that I rarely sleep on those flights. Thankfully Netflix, movies and some books kept me occupied. Off the field in Japan was an amazing experience. We opened in Sendai, which is close to the area the Tsunami hit in 2011. We took a trip to an Elementary school, that now serves as a memorial to the Tsunami. This school was an evacuation site for many citizens of the area. Everyone that evacuated there was rescued safely, but not before they watched as the Tsunami struck their town. We were escorted to the roof of the school, where the evacuees awaited rescue, and from there they watched as parts of houses, cars, etc. floated away. I can't imagine what that was like. There were pictures of cars and debris that came through school windows on the bottom floors. The devastation was unbelievable.
After this visit, we visited a Junior High, where they welcomed us with open arms. We introduced ourselves. They asked us some good questions about how to handle pressure and other aspects of life and our game. We did a pitching demonstration for them, and it ended with their yell leaders leading a cheer or chant for us. It was an afternoon full of plenty of smiles on both sides.
Playing in Japan was amazing. The crowds were awesome. They love softball there, and it is always on display. Our 3rd game had over 22,000 people in their Tokyo Dome. That's just mind blowing!
You guys all got to follow and watch International Cup!! It was a great week, where we could feel ourselves growing together each day, each game. It was a blast to be part of. I hit my stride in the circle. The feeling of the ball coming off my fingers was like days of old. It's crazy the emotions you get when things finally click. When the last out was made on Sunday, I almost cried. I think I've only cried over the ending of 3 games in my life, and two of those were not wins. The tears came from deep within. I was so excited to be part of this first Gold with this team.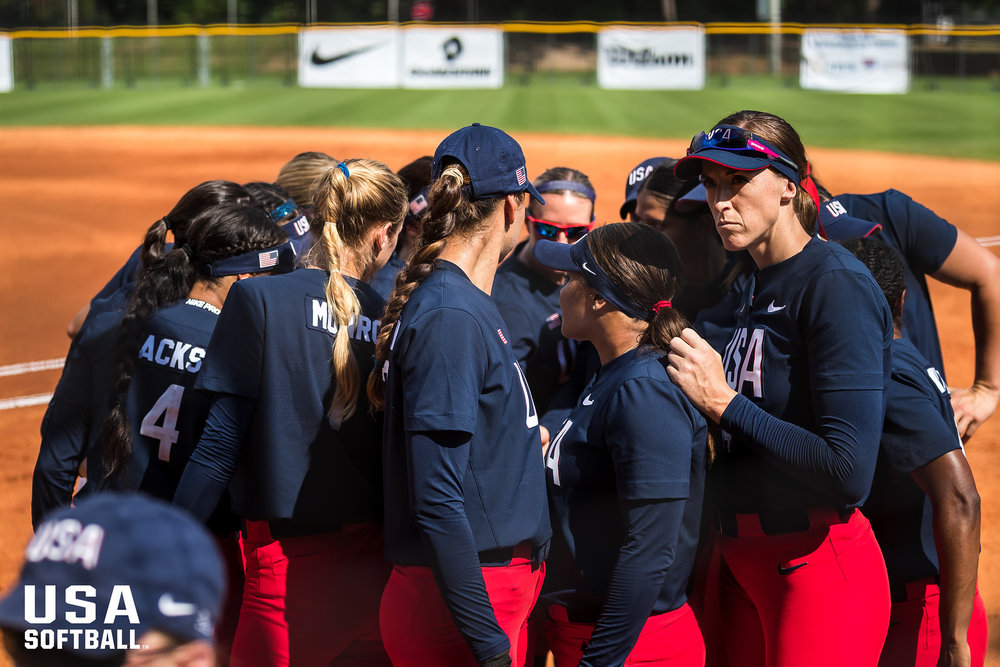 I am looking forward to getting back with the team soon.
In the last month, we have had 2-a-days a lot, we've had double headers, single games, testing… you name it. It was tiring, it was hard, but at the end of every single day, I was so honored to be wearing USA across my chest again and working with 17 women towards a goal. This past year at Texas State, I told my kids "the greats work hard when it's hard to work." This is the epitome of the last month. It was hard, but together we conquered it.
Summer isn't over. We still have exhibitions in Lafayette and Houston before heading to the Pan American games in Peru. I'm excited to stay a few days past the Pan Ams and see Machu Picchu with my family. We'll end our summer with Japan Cup in Aug/Sept. I am looking forward to getting back with the team soon.
If there's one thing I've learned from this first month… I have absolutely no regrets in putting the cleats back on. The workouts, bullpens, conditioning (all done solo for the most part) were completely worth being able to represent the Red, White and Blue every day.
Sorry this turned into a novel!
Until next time…
❤️
#38