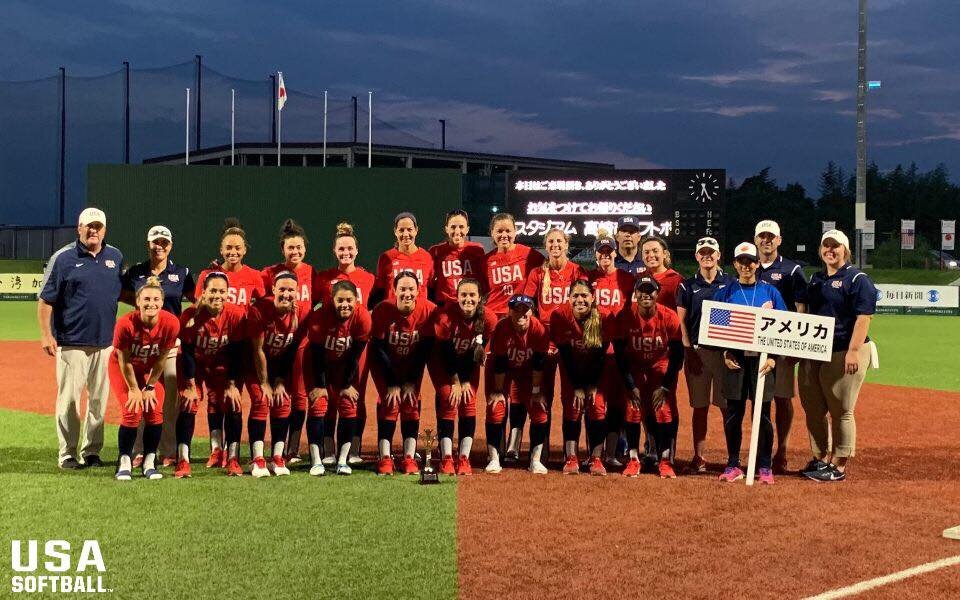 Hello again…
I know I took longer than normal to write again, but life happens!!
Team USA finished up the 2019 season in Japan, where we captured the Japan Cup. It was a fun trip. Even though we had gold on our minds, we had a lot of time to hang out as a team. We spoke at an American High School one afternoon since our practice was rained out. It was fun to have them ask so many questions and hear all my teammates' answers. The summer flew by, and I still am learning new things about my teammates each day!
The month between coming home from Japan and tryouts, I went back to work at Texas State. It was exciting to see my girls' faces again and share a little bit about my summer. Some of the best moments, when not on the road, are sharing the experience with my athletes. There are so many things, on and off the field, I dealt with this summer, that I can share. Off the top of my head, nothing is REALLY like riding a bike. I won't use that analogy anymore, lol. Your mind is really your most powerful tool, and when in doubt, you have to believe in yourself before you can believe in anything else.
In the month home, I kept busy. I was in the weight room 3 times a week and running 2 days a week. I met Danielle Lawrie's challenge to do 7-straight days of the Peleton. It was a great challenge. Seriously, I am glad she and I share things because it's a comfort to know that what we experience is similar. She obviously has her hands fuller than mine with two children, but let me add 8U softball to my calendar! My step-daughter began playing softball this fall, and I volunteered to assist the team. It's a new challenge, but it's so fun to see how excited they get just to make a good throw or make contact with the ball. One mom asked me at one of the first practices, "did you ever think you'd be doing this… pitching to 8-year-olds?" I chuckled because no, I don't think I ever predicted that in my life, but boy am I glad it's happening. It's also fun to watch Bracken (my step-daughter) pitch. She's pretty good for 8 and having practiced maybe 10 times. Everything she does, she learned from watching, which is another great reminder that kids are ALWAYS watching. She was even licking her fingers between pitches. Lol.
I'm the biggest Astros fan there is... I grew up watching Biggio & Bagwell take the field.... tonight, my childhood dream came true!! Appreciative of the time for a quick photo. This is going up on a wall.
I also got to check off a Bucket List item before I left for OKC. I was fortunate to be invited to the Nolan Ryan Foundation dinner and met my two childhood heroes, Craig Biggio and Jeff Bagwell. I actually met Biggio once before, when he caught a first pitch I threw out, but to see them both (and get a picture with them) was a dream come true!! Yes, I still fangirl over people!
Tryouts were the first week of October, and the week was so emotion-packed. Pitchers only threw 2 days, and I was the last one on our list. So, after drills on Wednesday, I got a lift in and watched everyone play… then Thursday I watched everyone play, then got to pitch that night. Friday was a repeat of Wednesday (minus the drills) and Saturday I brought it home, throwing the last game of the tryout. I felt good mentally and physically at tryouts. Not sure I threw my best, but it was good in my opinion. Then we were left to wait until Sunday morning.
Sunday was nerve-wracking. My roommate left the hotel, to be by herself to process the news when we got it. I totally understood, but I was sitting in the room with no idea what to do. I ended up going through my morning routine of reading the Bible, my devotional and journaling. A little before 8:30 I sent out a few texts to teammates letting them know my thoughts were with them, and then I waited! 8:30 came, and first I saw my roommate's, Ally Carda, name on the list. I shouted, even though I was alone in my room. Then I went back to the email to see my name.
As has been reported, I opted for the Family Group text to share the news. I then called my husband, but he was still asleep!! Seriously, how are you sleeping when you know your wife is getting big news?? I thought my dad would be golfing, so I called my mom and talked with her until I saw the email that said we needed to go downstairs to a meeting.
It was absolutely awesome to be there together and share the emotions of finding out who made the team. We have never done that before, and I think watching all of us rush to hug and congratulate everyone as they came down was just the coolest thing.
This group is special, and my heart is so full as we go our own ways for a bit. To say this journey will be exciting is an understatement. I really can't wait to write this chapter of USA Softball with these 17 women.
We spent two days meeting and getting photos and media spots done. We had team dinner where we got to kick back and enjoy each other's company. It's really is fun to learn everyone's stories and start to gel as a team.
Before heading home, I had brunch with Lauren Chamberlain. She and I were roommates in January, for 2019 USA tryouts. Even though we were teammates with the Pride, we weren't that close. Since January, this woman has inspired me but also become a great friend. We caught up on life over great food, and it just made me realize that it's totally worth it to take the time to see people who bring the good stuff to your life.
I got back on the grind today, working out and throwing. It will be a fun transition into training for THE purpose now. But, I also look forward to the 8U practices and games, a few appearances I have lined up, and being able to be HOME. After all, home is what makes all of this possible.
#38